1118 County Street [ Route 138 ]
Somerset MA 02726
Hours: MON - FRI [ 9:00am - 6:00pm ]
Network Installation and Support
WaveOne Technologies provides a variety of network installation and support services:
Custom Server Configurations
Wireless Network Solutions
Remote Access Solutions
Microsoft Certified Analysts
Power Management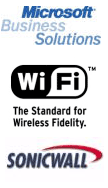 Business Process Automation
WaveOne Technologies can link your stand-alone systems and enhance their functionality. With workflow automation tools, you can speed up business processes, and enable stand-alone systems to communicate with each other. Data entered into one application is instantly replicated in others thereby eliminating error and duplication of effort.
Examine - Research - Implement - Evaluate
WaveOne Technologies is a leader in business process automation and application integration. Together we can create an extended return on your technology investments.
Data Backup Solutions
DataMate makes online backup possible for everyone with a secure solution that is easy and affordable. Plans start at only $19.95 a month.
The Most Advanced Software Available
Unlimited Computers and Usage
HIPAA Compliant
Access to your data 24/7-365
Seamless Encryption
Restore data whenever its needed
Supports Windows, Mac, Linux, Novell
Backup for the most popular database servers
Redundant Backup Servers
Restore data to physical media
Copyright © 2012 WaveOne Technologies, Inc. All Rights Reserved.