1118 County Street [ Route 138 ]
Somerset MA 02726
Hours: Mon - Fri 9-5
Business Network Support
WaveOne Technologies provides a variety of network support services:
Data Recovery
Wireless Network Solutions
Virus Elimination & Prevention
Consulting Services
Microsoft Certified Analysts
Network Troubleshooting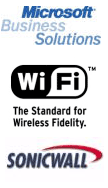 Business Process Automation
WaveOne Technologies can link your stand-alone systems and enhance their functionality. With workflow automation tools, you can speed up business processes, and enable stand-alone systems to communicate with each other. Data entered into one application is instantly replicated in others thereby eliminating error and duplication of effort.
Examine - Research - Implement - Evaluate
WaveOne Technologies is a leader in business process automation and application integration. Together we can create an extended return on your technology investments.
Copyright © 2012 WaveOne Technologies, Inc. All Rights Reserved.